RHS Tatton….. plans finalised!
July is a big month in Knutsford as we welcome the RHS Flower Show and thousands of people flock to the gorgeous Tatton Park to visit an array of amazing display gardens. 
Last year the Knutsford retailers and businesses really got behind the show and our town featured loads of fantastic floral displays – ours included 🙂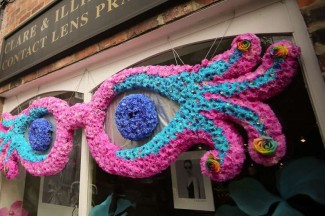 Our fun, Dame Edna inspired 8ft pair of specs was entirely made of fresh flowers and received a lot of attention from the public – and the judges (we got a highly commended award!)
This year our 2014 creation will be made by the RHS award winning Black Rose Florists on King St, Knutsford. Mark and Lynne had the brief to stick to an eye wear theme but mix it up a little for this years show. 
I spent some time with the team there last week while they showed me the concept – its going to look amazing but you'll have to wait till Monday 21st July to see it arrive at the Knutsford practice where it will be displayed for the week of the show.
Exciting times for Knutsford and the local area – we cant wait!
Check out Black Rose Florists by clicking HERE
Richard
Tags: blackrose, Cheshire, flowershow, Knutsford, RHS, tattonpark