Choosing the Best Optician for Your Child's Eye Care: A Personal and Important Decision
When it comes to your child's eye care, selecting the right optician is crucial. At Clare & Illingworth, we take pride in the positive feedback we receive from parents who appreciate our friendly and welcoming approach. Our informal atmosphere creates a calm environment where families can feel at ease.
Our team of optometrists are all fully trained and experienced in pediatric testing. If glasses are needed, we offer a wide range of excellent frames to choose from, ensuring that your child finds a style they love.
What sets us apart from many other optical practices is our use of qualified Dispensing Opticians (DOs) to assist children in selecting eyewear. According to guidelines, only a qualified DO can take measurements for children under 16. With five fully qualified DOs on our team, we go above and beyond the national standards to ensure that your children are seen by knowledgeable and experienced professionals at every stage of their journey with us, not just during the testing process.
We also understand the importance of myopia control for children. Myopia has been on the rise, and addressing its progression early is crucial for their long-term eye health. That's why we offer myopia control options, including contact lenses and specialised eyewear, to help slow down the progression of myopia in children.
Myopia control with glasses involves the use of specially designed lenses that can help manage and reduce the rate of myopia progression.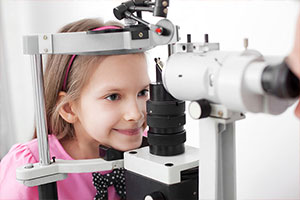 These lenses may incorporate features like peripheral defocus to guide proper eye growth and reduce the elongation of the eyeball, which is associated with myopia progression.
Contact lenses for myopia control are another effective option. Contact lenses have different prescription powers within the same lens, allowing for clear vision at various distances while also slowing down myopia progression.
At Clare & Illingworth, we are dedicated to providing comprehensive care for your child's vision. Our experienced optometrists will assess your child's specific needs and recommend the most suitable myopia control option. We will guide you through the process, ensuring your child receives the best care and support for their eye health.
We understand that affordability is important to parents, which is why we provide NHS coverage for children's testing under the age of 16. If myopia control options are recommended, we can discuss the available options and associated costs with you.
Undetected poor eyesight can significantly impact a child's ability to learn and behave, yet it often goes unrecognised. Early detection of vision problems and proactive myopia control measures lead to better outcomes. A sight test, combined with myopia control, can be a life-changing experience for children and parents alike.
If you would like further information, have any questions, or wish to explore myopia control options for your child, please don't hesitate to visit us in person, call, or email. We are here to address any concerns you may have and provide the best possible care for your child's vision, including myopia control through contact lenses and eyewear