Choosing the best optician for your Childs eye care is an important and personal choice. From patient feedback, we are proud to report that parents return to us time after time thanks to our friendly and informal approach with children, allowing families to enjoy a calm and welcoming atmosphere.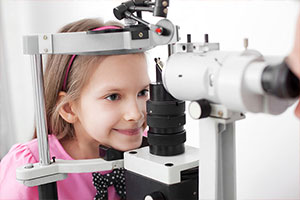 Our Optometrists are all fully trained and experienced in paediatric testing and if glasses are needed there are plenty of great frames to choose from.
Importantly, C&I differentiate from many Optical practices in their use of qualified Dispensing Opticians to help children choose eye-wear. Guidelines say that only a qualified Dispensing Optician is able to take measurements for children under 16 and with five fully qualified DO's between our practices, you are safe in the knowledge that we have gone one step above the national norm in ensuring your children are seen by a knowledgeable and experienced professional at all stages of the patient journey with us and not just in the test room.
The NHS covers the cost of children's testing for the under 16's and  if glasses are needed we can also issue an NHS 'voucher' which will help towards the cost of eyewear. Most of our children's frames are under £25, including scratch resistant lenses for extra protection.
Children should be seen by an optometrist before they start school and the earlier any visual problems are detected, the better! For any further information, please feel free to call in, phone or email us and will happily answer any questions you may have.
1 million children in the UK currently have an undetected vision problem which could affect learning and development in their early years. Whilst over 90% visit a dentist regularly, only 53% have ever had a sight test!
Poor eyesight can have a significant effect on children's ability to learn and on their behaviour, yet often goes unrecognised by teachers, parents and by the children themselves. The sooner that vision problems are detected – the better the outcome.
For children and parents a sight test can be a life-changing experience.