New – ZEISS DriveSafe Lenses.
One pair of glasses for everyday use and safer driving.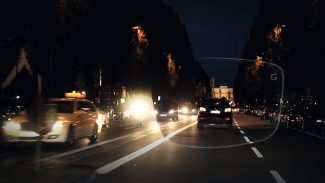 Many people feel insecure, uncomfortable and stressed when driving, especially in difficult light and weather conditions such as rain and mist, or at dusk or night. On average 83% of spectacle lens wearers also drive.
Driving can be a real challenge for everybody – no matter how long the distance, and good vision is vital for safety.
With ZEISS DriveSafe Lenses, ZEISS is introducing a new lens product category for everyday use. It is specifically designed to meet the vision needs of people who want to feel safer and more comfortable when driving with their everyday lenses and available in both single vision and progressive lens types.
Three elements are used to make driving safer and more comfortable;
Luminance Design

®

Technology by ZEISS takes into account the pupil size in low-light conditions
ZEISS DuraVision DriveSafe Coating reduces perceived glare.
ZEISS DriveSafe Lens Design incorporates an up to 43% larger mid-distance zone for easier focus switching between the dashboard and mirrors. And up to 14% larger far-distance vision zone for a wider view of the road.
Pop in to either practice to learn more about how we can help make driving more visually comfortable again.  
Richard